Tradition of Excellence
Long-standing specialty aviation eXPERTS
We have been performing airframe maintenance and modification services since 1970. As a Boeing Business Jet (BBJ) Authorized Service Center and FAA Repair Station, our team of highly-specialized engineers can perform any type of aircraft maintenance and modification services on all Boeing 737 series and aircraft.
Airframe SERVICES
Our knowledge and capabilities allow us to offer our customers rapid turnaround times and superior quality. Our services include:
Line maintenance
Structural modification and retrofits
Interior modification, design, conversion and retrofits
Structural components repairs and overhaul
Aging aircraft and structural inspections
Avionics installation, repairs and upgrades
Corrosion prevention and control programs
Service Bulletins
Post-delivery modifications

Interiors, systems, compliance upgrades, etc.

Connectivity modifications
NDT inspections and borescope
Painting
BACKSHOP SERVICES
We have full back shop capabilities in a 40,000 sq.ft. dedicated space. Our long-tenured technicians are highly-trained in structural repairs and avionics upgrades. Our services include:
Precision Machining
Sheetmetal
Calibration
Avionics
Welding
Non-Destructive Testing
Heat Treatments
Upholstery
Cabinetry
3-D Prototype Printing
Expertly Trained Master Technicians
Comprehensive Capabilities
DEDICATED TO QUALITY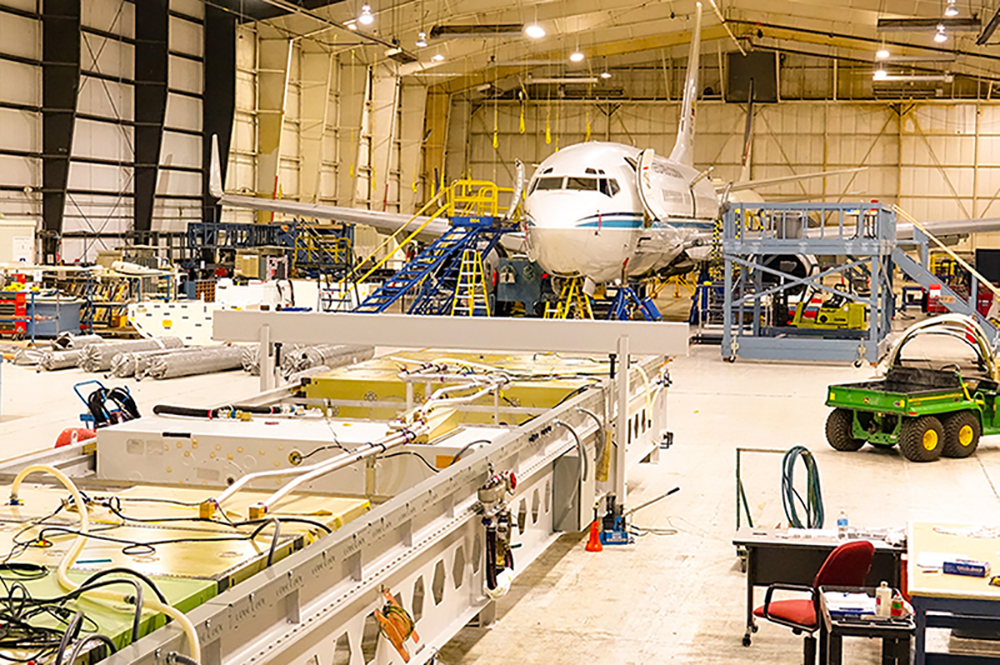 Aircraft Maintenance
Our FAA Repair Station Certificate enables us to perform maintenance and repair services on Boeing 737 series and aircraft. Our team of highly-trained and skilled technicians bring years of experience and expertise that enable us to provide rapid turnaround while maintaining superior quality. Our key capabilities include:
All scheduled letter checks and inspections
Service Bulletins
Airworthiness directives
Drop in and field support
Structural and composite repairs
Avionics troubleshooting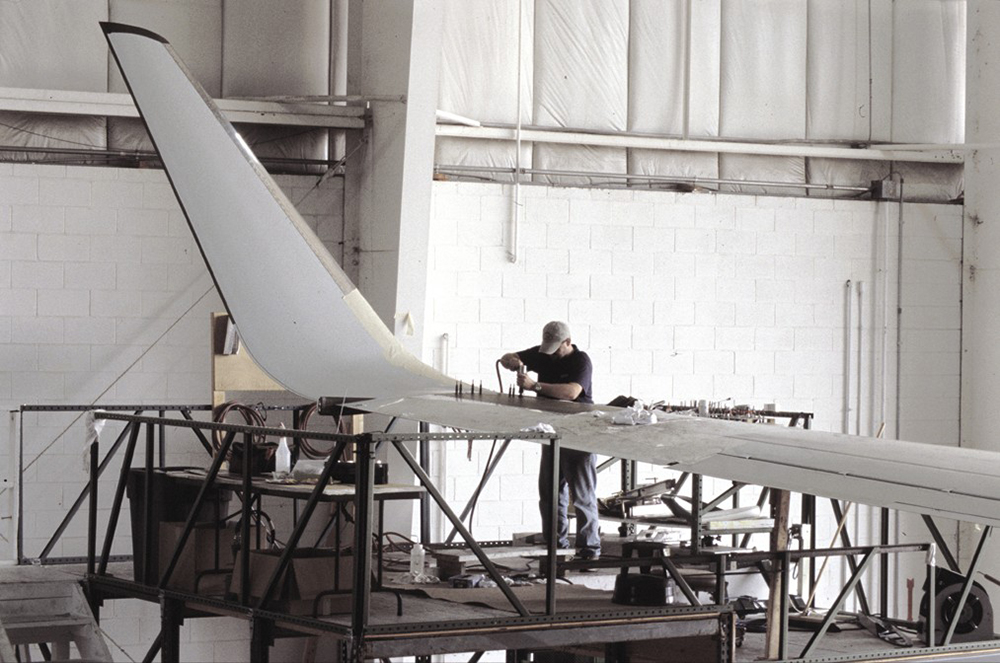 Aircraft Modifications
We perform a wide array of aircraft modifications.
SATCOM services
Next-gen flight management systems
Terrain Awareness/Enhanced Ground Proximity Warning Systems (TAWS/EGPWS)
CRT to LCD control panel upgrades
Communication systems
Weather radar systems
Traffic alert and collision avoidance systems
ATC Transponder system
Radar
Cockpit refurbishment
Complete radio packages
Cabin entertainment packages–audio & video
Wi-Fi/HSD upgrades
Winglets
Scimitars
Radome and antenna installations
VVIP cabin design, installation an certification
Cabin reconfigurations
Interior modernization and softgoods upgrades (bulkheads, dividers, ceilings, sidewalls)
Seats, in-seat power and seat reconfigurations
Lie-flat seats and premium seating modifications
Entertainment systems and monitors
LED lighting systems
Thermal and acoustic insulation packages
Professional designer dedicated to you for selecting materials and completing conceptual and technical design work
Network of repair facilities throughout the world
Mobile team of field service maintenance technicians to provide on-site support
Full-service in-house technical publications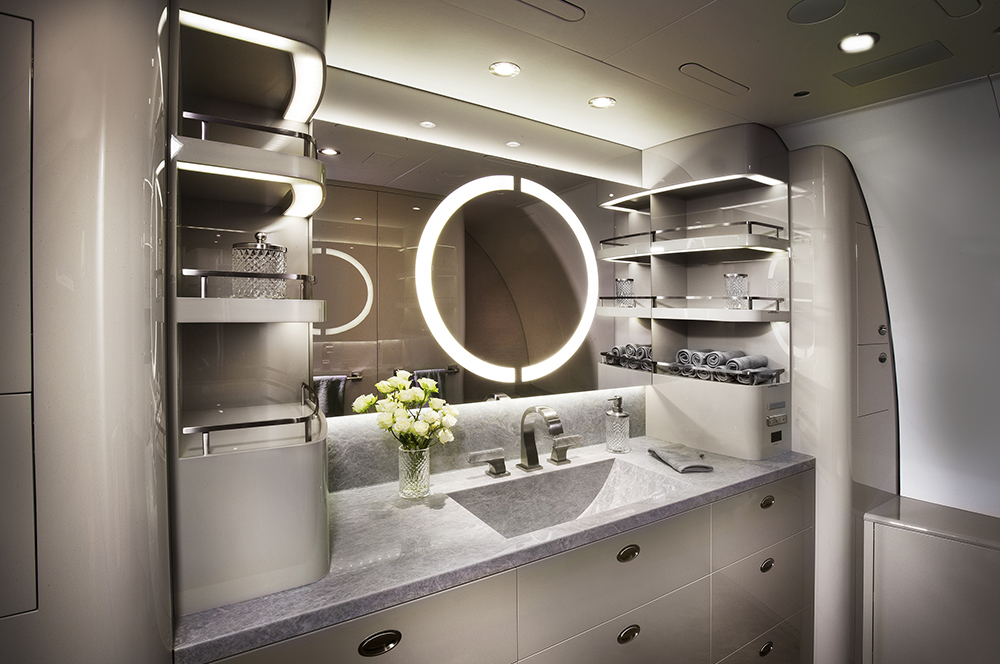 VVIP Interiors
We specialize in VIP aircraft. Our facility can house up to 7 mid-range, narrow body aircraft at a single time, and as an authorized Boeing Business Jet (BBJ) service center for more than 20 years, our team has extensive experience in all aspects of the completion requirements.
Our first completion was awarded and delivered in 2002 and since then, we have completed more than 28 VIP Interior Completions, of which 11 aircraft have been Head of State configurations. We routinely incorporate multiple STC's to minimize downtown.
A Decade of FAA Diamond Award for Excellence
Authorizations & STCs
INDUSTRY LEADING STANDARD WARRANTY
We are proud to be a long-time Organization Designation Authorization (ODA) by the FAA. Through our ODA status, we offer dozens of STCs to help minimize downtime for our clients. In addition, we also have the following authorizations:
Major Repairs and Alterations (MRA)
Parts Manufacturer Approvals (PMA)
EASA 145 Approvals
U.A.E. Approvals (GCAA)
Bermuda Approvals (DCA)